Description
SOFTBOARD is made from cellulose fiber through a wet process. In the production, these fiber are transformed into a low density mat and oven dry in different pressure and temperature for over multiple hour. Thicker mat could take days to accomplish the drying process. Dried mat then sent to humidifying chamber and painted with water based, toxic free paint. Horse Brand Softboard does not contain any glue as the fiber could hold together by our Accelerated Lignin Melting (ALM) process.
Features
Acoustic property - Softboard is 'soft' due to its micro porous and air gap, it could absorb the sound by reducing 'bounce of sound' which could reduse echo in the room.

Applicatin example: Wall mounting to eliminate noisy environment in the enclosed restaurant, music and home theater room, High rise building, prevent noise to escape from your entertaining area..

.
Insulation - Softboard could protect heat, preventing indoor aoverheating

Application example: Wall and ceiling lining to prevent external heat/cold which at the same time, save energy..

.
Packaging - Softboard usually be lined bothinternal and external packaging, acting as a force absorption, reduces vibration and shock load prevention.

Application example: Prevent damage during transporting material. Such as fruits, glass, high precision machines and many more..

.
Evaportor - Slow diffusion of soil based substances can be soaked to tiny piece of Softboard.

Application example: Slow evaporator/diffusion aroma oil, mosquito and insecticide..

.
Underlay - A natural alternative to foam based underlay prior to floor installation

Application example: Floor underlay, leveling floor unevenness..

.
Energy saving - Softboard is used in building shell application for roof, wall and floors.

Application example: End users realize substantial savings on building cost and improved performance when compared with conventional timber frame or rendered masonry construction..

.
Environment Freindly. 100% Wood Fiber
Asbestos Free
Ease of Workability
Cost Saving
Sound Insulation

100% Formaldehyde Free : E0 Product

(Tested by SGS JIS A 1460:2001)
Example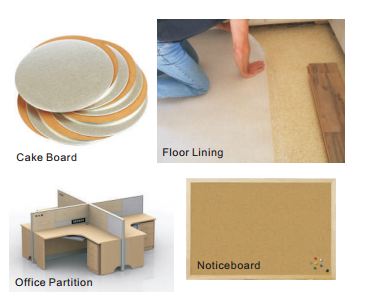 Softboard Surface
| | |
| --- | --- |
| | |
| Top : Pre-Primed White Paint | Bottom : Uncoloured |
Storage & Handling
| | |
| --- | --- |
| | Store under shade, dry and leveling area on timber bases. |
| | Handle vertically from both edges with two or more persons to prevent sagging of the board |
Size
10mm
12mm
4′ x 8′
(1220mm x 2440mm)
Yes
Yes